Come hungry, because the feast we serve is as BIG as our show! Enjoy a hearty portion of traditional turkey along with all you can eat sides and delicious dessert cooked fresh each night in Grandma's kitchen.

WATCH OUT for ELMER, West Point's very own dough boy and the best roll slinger this side of the Mississippi.  The rolls he throws are sooooo goood, that if you drop one, you'll be tempted to wipe it off and eat it anyway!
Our servers continue to dish it out until you can't eat anymore and the smile on your face is the only tip that we require!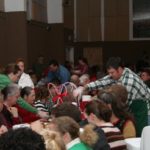 PASS AROUNDS Include:
Turkey, Dressing, Chicken & Dumplings, Macaroni & Tomatoes, Fried Potatoes, Greens, Corn, White Beans, Green Beans, Cole Slaw, Applesauce, Cranberry Sauce and Sorghum!
DESSERT is our homemade hillbilly cheesecake with cherry topping.
BEVERAGES include sweet and unsweetened tea, water and coffee. Soda available upon request for $1.00